Stylnove - 2015
---
Pixel
famiglia di lampade
lamp family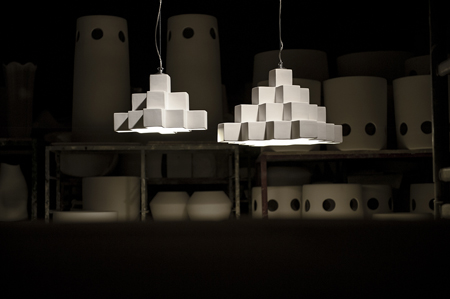 Pixel è una famiglia di lampada in ceramica composta da sospensione (in due misure) ed applique.
Il paralume è un unico volume percettivamente definito da tanti piccoli cubetti che in realtà si rivelano essere un'unica superficie a spessore costante. Interno ed esterno del pezzo generano un contrasto estetico: gli spigoli esterni infatti sono netti ed acuminati, mentre i corrispondenti interni sono morbidi e raggiati, generando un effetto luminoso soft e discreto.

La famiglia di lampade è completata da un vaso / centrotavola con lo stesso segno: un link diretto tra la tavola ed il corpo illuminante che la rischiara.

–


Pixel is a ceramic lamps family composed by pendant (in two sizes) and wall versions.
The shade is a single volume that is perceived as it was made by many small cubes that actually turn out to be a single constant thickness surface. Inside and outside of the piece generates a visual contrast: the outer edges are in fact net and sharp, while the corresponding interior ones are soft and rounded, creating a discreet and soft light.

The family is complemented by a vase / centerpiece with the same look: a direct link between the table and the lighting device that illuminates it.