Cyrcus - 2019
---
Jetlag
Orologio da parete
Wall clock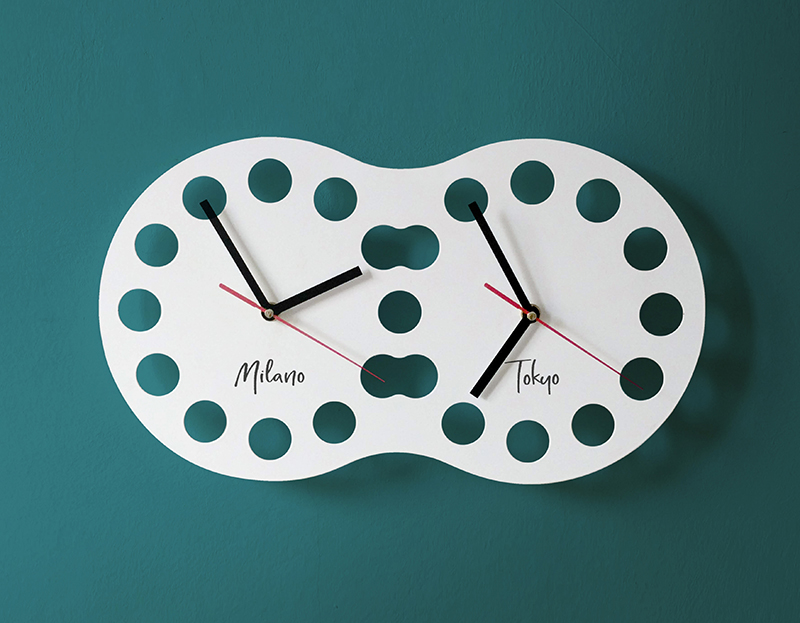 Perchè avere due distinti orologi per segnare due fusi orari diversi?
Jetlag è un orologio da parete in metallo intagliato al laser la cui forma è una ideale fusione di due quadranti, le cui ore sono segnate da una serie di fori che a loro volta si fondono e diventano comuni ad entrambe le coppie di lancette. Grazie alla sua forma pulita ed universale Jetlag può essere fissato a parete in orizzontale o in verticale, e la verniciatura bianca permette di scrivere i nomi delle località che si vuole.

Info per acquisti qui

–


Why have two distinct clocks to mark two different time zones?
Jetlag is a lasercut metal wall clock whose shape is an ideal fusion of two dials, whose hours are marked by a series of holes which merge and become common to both pairs of hands. Thanks to its clean and universal shape Jetlag can be hanged on the wall horizontally or vertically, and the white paint allows to write the names of any place.
For purchase info click
here