Tincal Lab - 2022
---
Gutenberg
Gioielli in acciaio stampato 3D
3D Printed steel jewels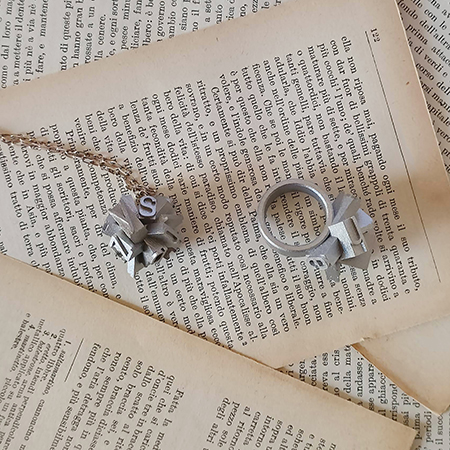 Alberto Ghirardello ha raccolto la sfida lanciata da Tincal Lab per l'omonima mostra a tema Gioielleria e Letteratura disegnando due nuovi pezzi concepiti in esclusiva per la mostra e che sono espressione delle possibilità offerte dalla stampa 3D SLS/SLA in metallo. La collezione Gutemberg (anello e pendente) interpreta il tema come un chiaro omaggio all'omonimo tipografo e stampatore del XV secolo che inventò la stampa a caratteri mobili che permise la diffusione della letteratura.

Un groviglio di caratteri mobili si fonde per diventare un'unica massa decorativa dalla forma astratta ma fortemente riconoscibile: le geometrie dei gioielli sono irreplicabili con tecnologie diverse dalla stampa 3D SLS/SLA e sono realizzate in acciaio inossidabile, per richiamare lo stesso materiale degli originali caratteri mobili.

–


Alberto Ghirardello has taken up the challenge launched by Tincal Lab to work on the theme Jewelry and Literature designing two new pieces exclusively conceived for the exhibition, which are expressions of the possibilities offered by metal 3D SLS / SLA printing. The Gutemberg collection (ring and pendant) interprets the theme as a clear homage to the homonymous typographer and printer of the 15th century, who invented the movable type printing that allowed the spread of literature.

A heap of movable type merges to become a single decorative mass with an abstract but highly recognizable shape: the jewels' geometry are irreplicable with technologies different from SLS / SLA 3D printing and are manufactured in stainless steel, to recall the same material of the original movable type
.