Next to Nature - 2015
---
Fred
contenitore per raccolta differenziata
pre-sorting container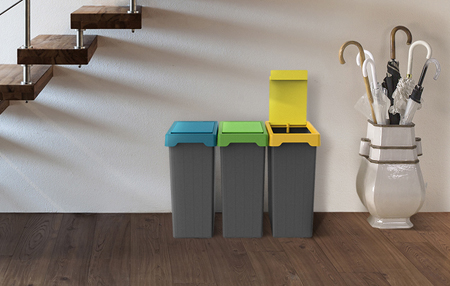 Volumi essenziali, slanciati e versatili: Fred, con le caratteristiche superfici solcate da linee verticali che richiamano lo stile "gessato" sartoriale, si presenta elegante e funzionale. L'intuitivo e pratico sistema di fissaggio laterale permette l'affiancamento di più contenitori e la possibilità di creare isole domestiche per la raccolta differenziata: una soluzione pratica, 30 litri di capacità e un anello che permette di mascherare completamente il sacco risvoltato sul fusto.
Dettagli discreti come lo sportello incernierato, dotato di un'agevole presa di apertura frontale e di uno smorzatore di chiusura che determina una discesa morbida dello sportello, lo rendono un contenitore basico ma originale.

Progetto realizzato in collaborazione con Irene Sartor e R&D Mattiussi Ecologia.

–

Essential, sleek, versatile forms: Fred, with its distinctive surfaces scored with vertical lines reminiscent of a sartorial pin-stripe, is highly elegant and practical. The intuitive side-latch system means several containers can be joined together, and home waste presorting bays can be created: a practical solution, with a capacity of 30 litres and a ring that completely hides the top of the bag.
Discreet details such as the hinged flap, with a convenient grip for front opening and damper to ensure soft, quiet closure, make this basic container original.

Designed in collaboration with Irene Sartor and R&D Mattiussi Ecologia.