Next to Nature - 2015
---
Dotty
contenitore per organico
food waste container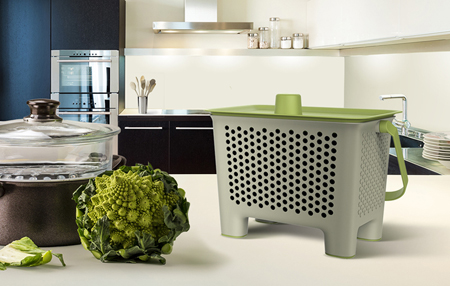 Un carattere originale per una raccolta del rifiuto umido diversa e semplice da effettuare.
Può un umile contenitore per organico elevarsi a vero e proprio accessorio di home design? Dotty vuole essere il giusto compromesso tra estetica e funzionalità: quattro piedini fortemente caratterizzanti lo sollevano da terra mentre le superfici forate, dal particolare pattern a pallini, consentono la massima areazione del contenuto. Il pratico fermasacco interno e la robusta maniglia completano il prodotto, permettendone un facile spostamento e invitando alla presa.

Progetto realizzato in collaborazione con Irene Sartor.

–

An original character for a different, easy way to collect food waste.
Can a simple food waste container becoma a home design accessory? Dotty wants to be the perfect balance between aesthetics and functionality: it is raised off the floor on four connoting feet while the perforated surfaces with their particular pattern dots, allow the maximum ventilation of the content.and the perforated surfaces more commonly seen in metal objects, make for maximum aeration. The handy inner bag clamp and the sturdy handle add the finishing touches to the product, making it simple to grab and to move.

Designed in collaboration with Irene Sartor.