Next to Nature - 2015
---
Clippy
contenitore per organico
food waste container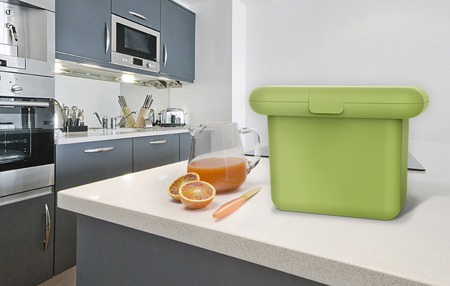 Clippy è una proposta nuova, diversa dai tradizionali metodi domestici di raccolta dell'umido, una soluzione innovativa costituita da un contenitore realizzato in un unico pezzo composto da tre elementi interconnessi l'uno all'altro mediante cerniere flessibili: un anello fermasacco "easy clip", un coperchio con chiusura ermetica e maniglie ergonomiche laterali.
Le particolari linee curve del bordo esterno consentono di nascondere alla vista le maniglie ed il sacchetto, fermato dall'anello interno, permettendo così un più elegante e discreto utilizzo del prodotto.

Progetto realizzato in collaborazione con Irene Sartor.

–


Clippy is a new proposal, different from the traditional methods of domestic food waste collection, an innovative solution of a unique-piece featured by three interconnected elements, joined together by flexible hinges: an "easy clip" bag-clamping ring, a hermetic lid and ergonomic side grips.
The distinctive curved lines around the edge keep grips hidden from view and also the bag, held in place by the inner ring, making for an elegant, discreet aesthetic.

Designed in collaboration with Irene Sartor.