Häfele - 2023
---
Arch
Maniglia e pomello per mobili
Furniture handle and knob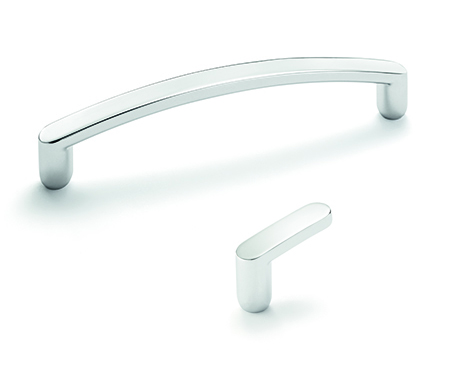 Arch è una maniglia per mobili, realizzata in acciaio e disponibile in diverse finiture. La sua forma essenziale e geometrica è all'apparenza statica, ma ad un'osservazione più attenta si rivela essere energetica, comunicando movimento e dinamismo. Una superficie lineare si inarca come se sottoposta ad una invisibile tensione alle sue estremità, come un arco nelle mani del suo arciere, definendo una comoda e pratica superficie di presa che termina con discrezione tramite due cilindri addolciti da una morbida raggiatura che vanno a contatto con la superficie di un mobile.

La maniglia è accompagnata da un pomello che ne richiama le forme, generando un aspetto altresì dinamico che invita alla presa.

–


Arch is a furniture handle, made in steel and available in different finishes.
Its essential and geometric shape is apparently static, but upon closer observation it reveals itself to be energetic, communicating movement and dynamism. A linear surface arches as if subjected to an invisible tension at its ends, like a bow in the hands of its archer, defining a comfortable and practical gripping surface that ends discreetly through two cylinders softened by a soft radius that come into contact with the surface of a furniture piece.

The handle is accompanied by a knob that recalls its shapes, generating an equally dynamic aspect that invites to grab it.