Pezzani Home Collection - 2018
---
Step
Libreria freestanding
Freestanding bookcase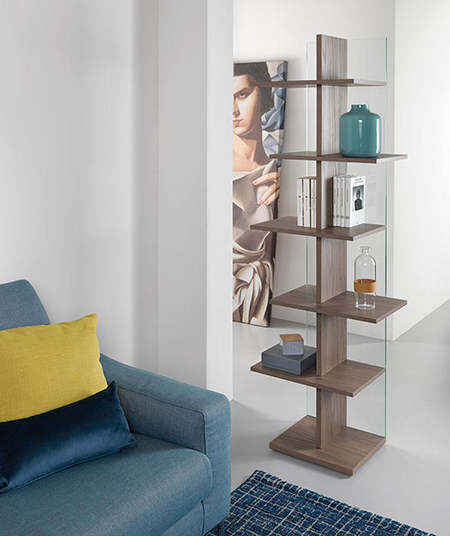 Step è una libreria caratterizzata da un unico montante verticale centrale e dei ripiani sfalsati: una struttura apparentemente impossibile, che sembra stare in equilibrio solo grazie a qualche trucco magico.

La struttura è resa possibile solamente grazie all'impiego di una base zavorrata ed una schiena in vetro alla quale sono fissati montante e ripiani che grazie alla sua trasparenza crea l'illusione di un equilibrio impossibile.

La libreria può essere indistintamente utilizzata a centro stanza o a muro, da sola o accostata in più unità, ed è realizzata in diverse finiture.

–


Step is a bookcase featured by a single central vertical element and staggered shelves: a structure that appears impossible, which seems to be in balance only thanks to some magic trick.
The structure is made possible only thanks to the use of a weighted base and a glass back to which the vertical panel and shelves are fixed to, and thanks to its transparency creates the illusion of an impossible balance.
The bookcase can be used both in the middle of the room or on the wall, alone or combined in several units, and is made in different finishes.